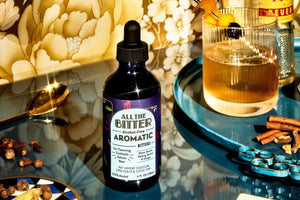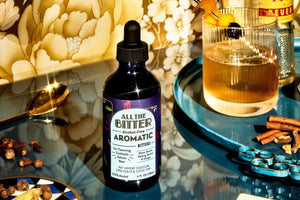 Cocktail bitters are the spice rack of the bar cart, and our bold Aromatic bitters can be used in drinks with or without alcohol. Below are a few of our favorite ways to use them.
Bitters and Soda
Flavored sparkling water's more interesting, sophisticated cousin. Simply mix a few dashes of bitters with club soda to create a refreshing, botanical, bubbly sip that aids digestion.
Old Fashioned
The grandaddy of classic cocktails gets an update in our non-alcoholic version that calls for maple syrup and a healthy dose of Aromatic bitters. Every bit as satisfying as the original.
Simple Mixers
Mixers like tonic and ginger beer are the perfect canvas to spice up with bitters. Just add a few dashes—as much or as little as you like—for a burst of flavor.
Lemon, Lime and Bitters
Like a grown-up version of lemon lime soda, our fresh take on this classic drink is easy to make, thirst quenching, and doesn't require any fancy ingredients.
Non-Alcoholic Wine
Underwhelmed with non-alcoholic red wine? Our Aromatic bitters are the best hack for cutting the sweet, grape juice flavor that can be found in some non-alcoholic reds.
Coffee and Tea
Bitters are a great way to add flavor, and digestive benefits, to coffee or tea without the added sugar of syrups. The perfect way to start your day!
Get More Recipes
There are a lots more recipes to discover! Check out the complete list of non-alcoholic cocktail recipes featuring our Aromatic bitters.
As Seen In