Mindfulness, inclusion, and tasty drinks for everyone.
We're Carly and Ian
We met while working together as sommeliers at one of the world's finest restaurants, The French Laundry, in the Napa Valley. Needless to say, our professional lives revolved around wine, beer, and cocktails.
After having kids we decided that alcohol wasn't in our plan anymore, but great-tasting drinks still were. So we ventured into the exciting new world of non-alcoholic beverages.
It came as a surprise when we found limited alcohol-free bitters on the market—and nothing that truly felt classic—so we decided to make our own. Hundreds of test recipes, experiments, and tastings later we've nailed what we believe are some of the best tasting⁠—and most beneficial⁠—bitters in the world, alcohol-free or otherwise.
Whether you're drinking alcohol, cutting back, teetotalling or just curious, we hope you enjoy our bitters as much as we enjoy making them for you.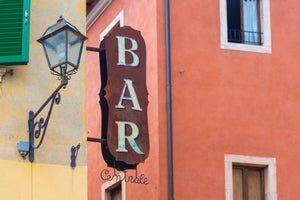 Inclusive beverage options in every mindful bar, restaurant + home.
ALCOHOL-FREE ALCHEMY
Painstakingly Perfected
We tested over 100 recipes to perfect our clasically inspired, alcohol-free bitters—and we improve with every tiny batch.
Filled With Abundance
Each bottle is packed with 2-3x more raw botanicals than traditional alcoholic bitters to ensure that your drinks are loaded with intense flavor and functional benefit.
Bottled With Spirit
Made by hand from start to finish, we coddle our bitters for up to eight weeks until they're ready to go. Once perfected, we hand-bottle, label, package, and ship direct to you!
🌿 Made with organic and wild foraged ingredients

🙌 100% handmade with raw botanicals

🙊 No added flavors, extracts, essences, etc...

🙉 No added sugar, colors, preservatives, or GMOs

🙈 Free from all major allergens, vegan, and gluten-free

🚫 Absolutely 0.0% alcohol, zip, zilch, nada
We are committed to the health of our planet and her people.
1% for the Planet
Sourcing organic, ethically wild foraged, and non-GMO ingredients is just the beginning of our commitment to the earth. In partnership with 1% for the Planet we donate 1% of our annual sales to environmental causes—so that our kids' generation has a planet to call home.
2% for Todd
Our founder Carly's father, Todd, dealt with substance abuse issues for most of his life and unfortunately never found recovery. It's in his honor that we donate 2% of our annual sales to non-profits and programs focusing on substance abuse, with the hope that anyone who seeks help may find the gift of recovery.