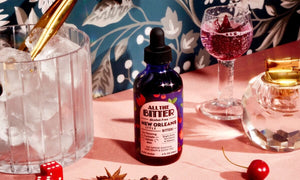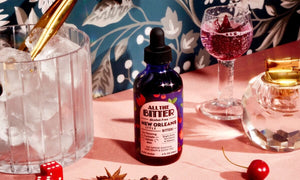 Cocktail bitters are the spice rack of the bar cart, and our vibrant New Orleans bitters can be used in drinks with or without alcohol. Below are a few of our favorite ways to use them.
Bitters and Soda
Flavored sparkling water's more interesting, sophisticated cousin. Simply mix a few dashes of bitters with club soda to create a refreshing, botanical, bubbly sip that aids digestion.
Simple Mixers
Mixers like tonic and ginger beer are the perfect canvas to spice up with bitters. Just add a few dashes—as much or as little as you like—for a burst of flavor.
Non-Alcoholic Wine
Underwhelmed with non-alcoholic red wine? Our New Orleans bitters add a ton of depth to red wine with flavors of tart cherry, anise, hibiscus, and balancing bitter notes.
Hibiscus Sour
Hibiscus tea is the star of this non-alcoholic cocktail that takes sour to the next level, combining fresh grapefruit juice and lime for a bitter, puckering punch.
Coffee And Tea
Bitters are a great way to add flavor, and digestive benefits, to coffee or tea without the added sugar of syrups. The perfect way to start your day!
Get More Recipes
There are a lots more recipes to discover! Check out the complete list of non-alcoholic cocktail recipes featuring our New Orleans bitters.
As Seen In